10 มกราคม 2013
See the Gundam 00 movie with a special greeting from Director Mizushima 1/31 at Shinjuku Picadilly!
Don't miss Setsuna's return to the silver screen!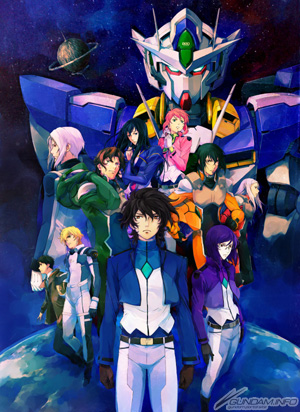 Mobile Suit Gundam 00 -A wakening of the Trailblazer-, which premiered in September 2010, will return for a special showing 9:00 PM January 31st at Shinjuku Picadilly in Tokyo.
-A wakening of the Trailblazer- is the first all-new Gundam movie since Mobile Suit Gundam F91 in 1991.
Set two years after the conclusion of the TV series during a war for humanity's survival against the mysterious alien lifeform ELS, it shows Celestial Being's final battle and draws a true conclusion to their tale.
Now, more than two years after its premiere, it returns to the big screen at Shinjuku Picadilly along with a special message from director Seiji Mizushima.
Tickets are ¥1,500. Advance sales will be conducted on Shinjuku Picadilly's home page at 4 PM on January 18th, with any remaining seats to be sold at the theater box office.
Don't miss Setsuna's return to the silver screen!
"Mobile Suit Gundam 00 the Movie: A wakening of the Trailblazer" screening details
Date and Time
9:00 PM, January 31st
Venue
Shinjuku Picadilly Screen 3
Program
■ Message (before screening)
Appearing: Director Seiji Mizushima

■ Screening
Mobile Suit Gundam 00 the Movie: A wakening of the Trailblazer
Tickets
■ Ticket price
¥1,500

■ On sale
Beginning 4:00 PM, January 18th

■ To purchase
Shinjuki Picadilly HP
Disclaimers
* Guest list subject to change without notice.
* Six ticket per customer limit.
* Electronic orders only.
* Credit card required.
* As this is a special event, coupons and shareholder certificates are not accepted.
* We expect heavy traffic when tickets go on sale.
  Network or server issues may prevent the page from loading swiftly or at all, or may interrupt your order.
  We take no responsibiity for failed orders due to technical issues.
* A confirmation email will be sent when tickets are purchased.
  Ticket status can also be confirmed on the theater's page.
* Any tickets remaining when the theater opens on 1/19 will be sold from the Shinjuku Picadilly box office.
* All seats are general admission. Specific seats cannot be reserved.
* Ticket sales will close when sold out.
* Photography and other recording not permitted.
* Media will be present.
อนุญาต Cookie เพื่อดูหัวข้อแนะนำสำหรับคุณ