24 สิงหาคม 2011
'Mobile Suit Gundam Shin Gihren no Yabou' for the PSP goes on sale August 25th! Gundam actors give it a try on camera!
Test play by Gihren no Yabou fans Daisuke Sakaguchi and Yuichi Nakamura!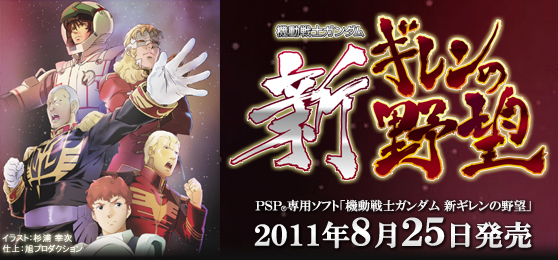 宇宙世紀を舞台にしたThe newest in the Gihren no Yabou U.C. simulation series, Mobile Suit Gundam Shin Gihren no Yabou, hits PSP on August 25th!
In this version, players can choose to act as generals and pilots as well as commanders. Rather than taking control of a faction's entire military as commanders do, pilots seek to expand their authority on the battlefield in a mode new to the series.
Both One Year War and Second Neo Zeon War scenarios are featured, with both canonical paths and the series' famous 'if' scenarios. The Unicorn Gundam and Sinanju from the new hit Mobile Suit Gundam UC are also available.
The long-awaited new Gihren no Yabou is here!

For more details,
check this post
, or
or the official site
.

To celebrate the release, Gihren no Yabou fan Gundam actors give it a test play, viewable streaming!

Daisuke Sakaguchi (Mobile Suit V Gundam's Usso Ewin) and Yuichi Nakamura (Mobile Suit Gundam 00's Graham Aker) will take it out for a spin!

First, Yuichi Nakamura tries the new Pilot scenario 'Amuro Ray (CCA)'! He charges forth in the mighty ReGZ like a true pilot!
Sure of his skill, he starts on a particular mission...
[Streaming dates] August 25 - October 25

Next, Zeon fanatic Daisuke Sakaguchi tries out the Commander scenario 'Cihren Zabi'!
A series veteran, he chooses Hard mode, but is wiped out at the first major clash, the Battle of Odessa!
Taking the developers' advice, he tries again on Easy.
[Streaming dates] August 25 - October 25
Shin Gihren no Yabou, great for both series veterans and new players, is on sale now!
If you've been waiting to jum into the Gihren no Yabou series, now's your chance!
プロフィール紹介
Daisuke Sakaguchi (left) Born October 11th from Niigata
Famous roles: Usso Ewin (Mobile Suit V Gundam), Shinpachi Shimura (Gintama), Hideto Suzuri (Battle Spirits: Shonen Gekiha Dan), Shun Fujimaki (Gambarist! Shun), Yuzuhiko (Atashin'chi), and more
Yuichi Nakamura (right) Born February 20th from Kagawa
Famous Roles: Mobile Suit Gundam 00 (Graham Aker), Gray (Fairy Tail), Gekkou Kurenai (A Dark Rabbit Has Seven Lives), Ryu Sanada (Kimi ni Todoke), Takaya Abe (Big Windup!), and more
Mobile Suit Gundam: Shin Gihren no Yabou




Date: August 25th, 2011

Price: ¥6,280

Platform: Playstation® Portable

Genre: Strategic simulation

Players: 1

CERO: A (All ages)
อนุญาต Cookie เพื่อดูหัวข้อแนะนำสำหรับคุณ