4 กุมภาพันธ์ 2015
We infiltrate a Mobile Suit Gundam The Origin I: Blue-Eyed Casval test screening!
VIP comments from the Tokyo test screening!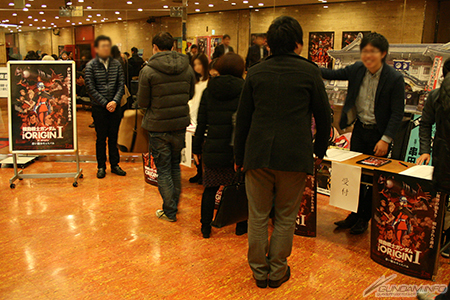 Mobile Suit Gundam The Origin I: Blue-Eyed Casval
premieres February 28th in theaters, on advance Blu-ray, and digitally!! Invitation-only test screenings were held in Tokyo on February 3rd and 4th, and GUNDAM.INFO staff made it in to gather all the information we could. If you can't wait for the premiere, at least you can whet your appetite with this!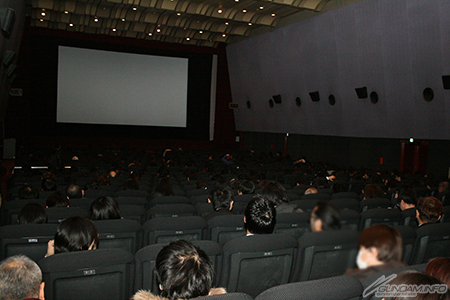 ▲ The theater is packed with VIPs. You can already hear the excitement!
* They gave us permission to take photos, but only if we promised not to get any closer.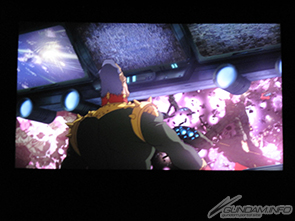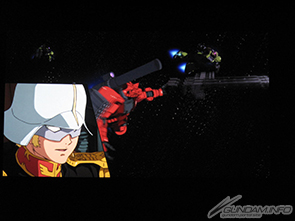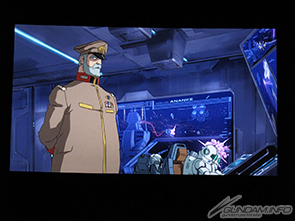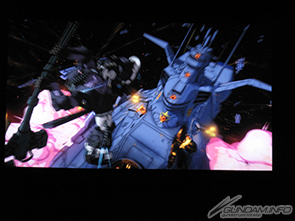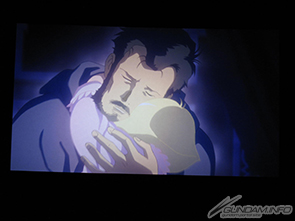 ▲ Highly-choreographed combat action combines with complex human drama! The crowd erupted with applause after the screening completed.
As the crowd funneled out, we caught a few lucky viewers for some comments:
The mobile suits you see on screen are coming to your shelf as models too! Don't miss them!
(T., Bandai Hobby)

The story is amazing. I think this is the first "tragic", in the classical sense, Gundam first episode.
(Z., Gundam Ace editor)

Technology has advanced to the point where The Origin could be presented in ways which not only please the audience, but surpass their preconceived visions.
(Y., CG animator)

For the fortysomething first generation of Gundam fans, it will be a joy to see Yoshikazu Yasuhiko's characters moving in art so much like his own. Newer Gundam fans should watch for the detailed mecha, talented direction of character scenes, and more.
(K., Dengeki Hobby editor)

I can't get this Char out of my head!
It really made me think of the unending possibilities of childhood, and how how you're raised molds you.
(M., Gundam-san director)

The amazing combat scenes catch the eye, but what really has long-term potential is the human drama and deep story. I hope the public enjoys it too!
(M., corporate partner)

I'm not sure how many years this has been in planning, but an incredible staff has done great work over the past year or so of production. Watching it, I think we managed to make a good beginning. It's too early to look back on the project, but if I may indulge myself, I hope we'll be able to do even better as the series continues.
(producer Osamu Taniguchi)

Oof, I'm exhausted!
But we worked hard!
Guntank on the big screen! I love it!
(director Takashi Imanishi)
Mobile Suit Gundam The Origin I: Blue-Eyed Casval
premieres February 28th. Don't miss it!
* วันที่ที่เกี่ยวข้องกับสินค้าและการให้บริการที่ระบุไว้จะถูกกำหนดในประเทศญี่ปุ่น
กำหนดการจะแตกต่างกันไปในแต่ละเขต โปรดไปที่เว็บไซต์อย่างเป็นทางการของเราหรือร้านค้าที่ใกล้ที่สุดเพื่อดูรายละเอียด
อนุญาต Cookie เพื่อดูหัวข้อแนะนำสำหรับคุณ