7 กรกฎาคม 2011
Newtype's August issue on sale today!
Packed full of "Ano Hi Mita Hana no Namae o Bokutachi wa Mada Shiranai" with a cover and reverse, major staff and cast interviews! Relive the moving final episode!
Newtype August issue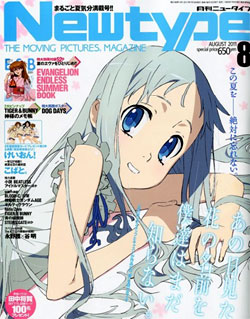 Special price ¥650
■
Pullout
・EVANGELION ENDLESS SUMMER BOOK
■
Bonus
・
Dog Days
B2 poster
■
Pinups
・
Tiger & Bunny
・
Kamisama no Memo-cho
■
MONTHLY TOPICS
The truth behind
The Origin
's anime adaption, we get the scoop on the newest
Toaru Hikuushi e no Tsuioku
illustrations, and more!
■
flowers
What's on the minds of the director, character designer, scriptwriter, and cast after that moving final episode?
・
Ano Hi Mita Hana no Namae o Bokutachi wa Mada Shiranai
■
Too cool, So exciting!
Four hits enter their second season! What new turns will the stories take?
・Blue Exorcist
・My Ordinary Life
・STEINS;GATE
・TIGER & BUNNY
■
His and Her Season
Newtype's picks for the new season. We find the high points of summer's new shows from a variety of angles!
・Blood-C
・Mawaru Penguin Drun
・Uta no Prince-sama Maji Love 1000%
・Natsume Yujincho S3
・Baka and Test: Summon the Beasts S2
・No. 6
・Sacred Seven
・La croisée dans un labyrinthe étranger
■
HOT SPIRITS!
Megahits like a new Gundam are already announced for autumn. Will this fall be even hotter than summer!?
・Mobile Suit Gundam AGE
・Guilty Crown
・Fate/Zero
・UN-GO
・Aquarion EVOL
■
Unforgettable Summer Blockbusters
Two major films release this unforgettable summer!
・From Up On Poppy Hill
・Fullmetal Alchemist: The Sacred Star of Milos
■
The final chapter of CLAMP's Kobato.
■
Recommendation
・Yondemasuyo, Azazel-san.
・Bunny Drop
・Nura: Rise of the Yokai Clan: Sennen Makyo
・Arakawa Under the Bridge
■
The Facebook battle heats up!
What's a Facebook? What does it have to do with anime? We report on the profiles you'll want to keep an eye on!
■
The festival has begun!
This summer will be hotter than usual, packed with events and special items. We follow up on three summer festivals:
・Carnival Phantasm
・Black☆Rock Shooter
・Sunrise Festival 2011: Summer Storm
■
What are you reading this summer?
This is the summer of summer viewing! Our reporters read the new season's adaptions and help you choose your own summer reading list!
・A Dark Rabbit Has Seven Lives
・Kamisama no Memo-cho
・Boku wa Tomodachi ga Sukunai
・R-15
・The Mystic Archives of Dantalian
■
Komerareta Sugomi

Interview: Akira Tani and Mamoru Nagano
The prototype of The K.O.G. is complete! Prototyper Akira Tani and Mamoru Nagano discuss its charms!
・Five Star Stories Reboot
■
Beatless: the Novel

Author: Satoshi Hase / Illustrator: redjuice
■
RANKING REVIEW
■
MONTHLY LINE UP
■
Nationwide anime and VA radio listings
■
E.T.T.'s Sexual Salmon Harassment No.1
■
ANIME LAND 7/10→8/9
■
Creation Archive
Girls who want to change. A gallery of character designer Mel Kishida's art.
・Hanasaku Iroha
■
NEWTYPE EXPRESS
■
VOICE Newtype Press
This season's hot topic! Casting for the weather character "Haru-chan" is announced!
■
Newtype Press
・the final Studio Ghibli's Neko no Te demo Karitai
・Shinobu Nishimura's Kobe-Motomachi 'Shita-Yamanote Dress'
・Akiyuki Shinbo no Kyoshuku desu ga...
・Risa Ebata's Oh-mili 2
・Kira Inugami's Kira-kira Mode
・Maaya Sakamoto's Manpuku-ron
・Masami Yuuki's Hateshinai Monogatari
・Keiichi Arawi's Helvetica Standard
■
NEWS & NEWTYPE
・New Disc Blu-ray & DVD Release info
Hanasaku Iroha
and
Dog Days
on sale soon!
・MUSIC
Kamisama Dolls
theme song artist Chiaki Ishikawa and the passion the puts into her songs
・EVENT & VOICE
Sengoku Basara
sallies forth onto the silver screen! Plus close-ups on
Natsume Yujincho
and
IS
events!
・GAME INFO
Fight your way through team battles in
Sengoku Basara Chronicle Heroes
!
・MODEL INFO
The Mass Production Zaku joins the hyper-realistic RG series!
・Book Tankentai
What future did Horiemon envision before his imprisonment? We ask!
・COMICS INFO
Summer Wars
adapter Iqura Sugimoto's new work is about competitive quizzes!?
・Special: Macross Frontier
Sheryl and Ranka 1/100 VF-25F markings! A model you can build and then decorate!
・Digital Content Info
Info on Nicofarre's launch, new apps, and online streaming!
■
NEWTYPE FORUM
■
ART FORUM
■
From the Sakura-kou Light Music Club!
■
New feature: Kenshin Kiden: Rurouni Kenshin
■
ENDLESS SUMMER GIRLS MIKA
■
New feature: Ima, Kimi no Ai no Yukimasu! Idolm@ster
■
HOROSCOPE
■
Gundam Shinbun
■
Reader Prizes
Cover: Ano Hi Mita Hana no Namae o Bokutachi wa Mada Shiranai
Illustrator: Masayoshi Tanaka
Finishing: Kazuko Nakashima
Cover design: Taisuke Hashidate
Title logo: Tetsuya Asakura
Cover printer: Masami Inui (DNP)
©ANOHANA PROJECT
อนุญาต Cookie เพื่อดูหัวข้อแนะนำสำหรับคุณ