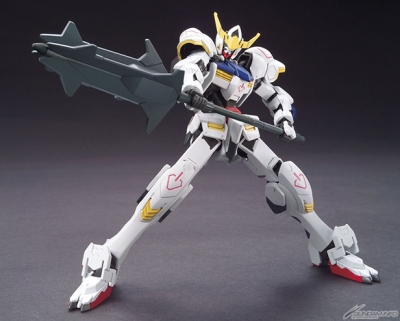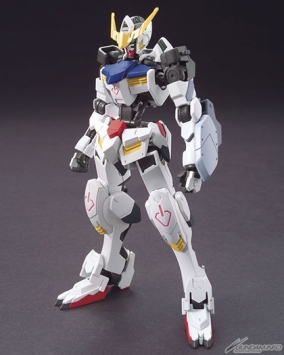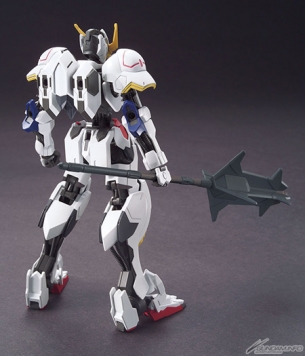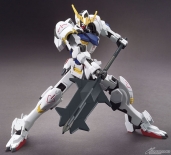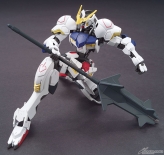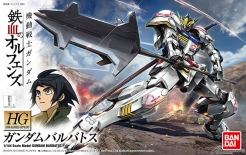 ■ HG 1/144 GUNDAM BARBATOS October 3rd, 2015 / ¥1,080
The Gundam Barbatos from Mobile Suit Gundam: IRON-BLOODED ORPHANS arrives as a Gunpla kit packed with play value! Detailed molding and marking stickers combine to recreate its in-show colors with no need for paint, and it can be converted between forms. Weapons and some armor can be swapped with other kits to further customize your Barbatos! Weapons in this kit include its mace and sword.
The first production run also includes "Gundam Barbatos" and "Mikazuki Augus" promo cards for Gundam TryAge!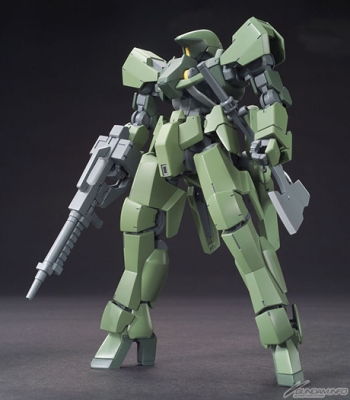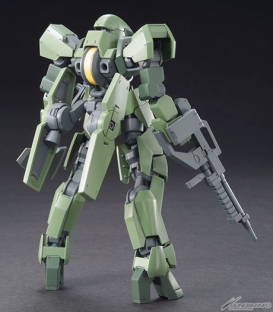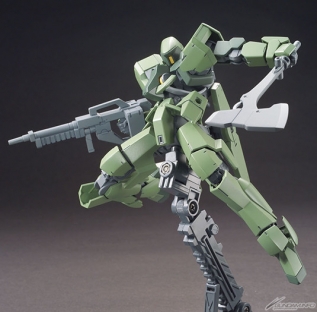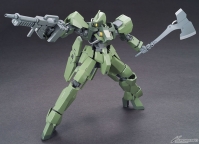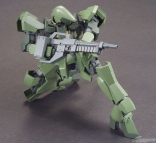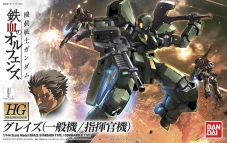 ■ HG 1/144 GRAZE October 10th, 2015 / ¥1,080
Gjallarhorn's front-line suit from Mobile Suit Gundam: IRON-BLOODED ORPHANS is here! Add or remove the commander type's horn at any time. The head opens, revealing intricate internal mechanisms! Weapons include its rifle and hip-mountable battleaxe.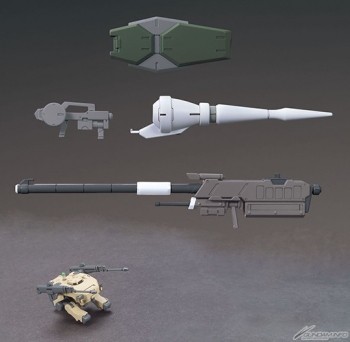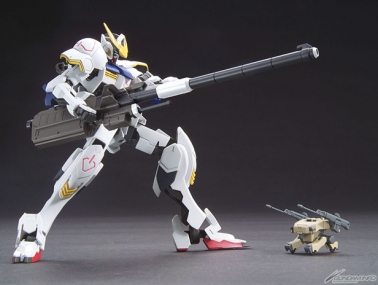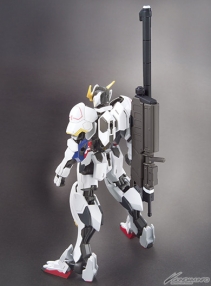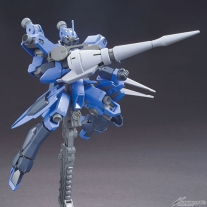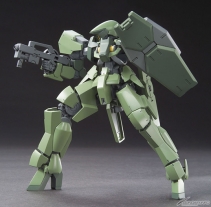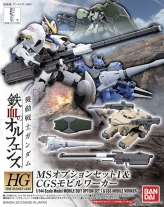 ■ HG 1/144 MS OPTION SET & CGS MOBILE WORKER October 10th, 2015 / ¥648
Pick up a weapons set from Mobile Suit Gundam: Iron-Blooded Orphans! Along with the Barbatos's smoothbore cannon, the Schwalbe Graze's lance unit, and the Graze's shield, the 1/144 set also comes with a GGS Mobile Worker!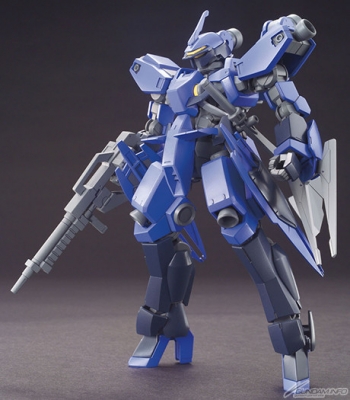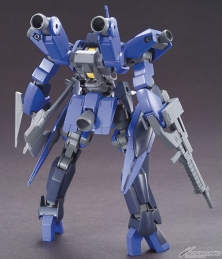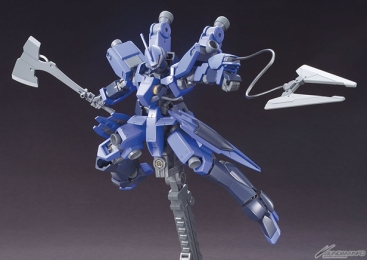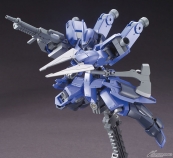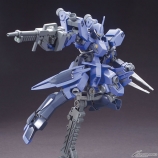 ■ HG 1/144 MCGILLIS'S SCHWALBE GRAZE October 17th, 2015 / ¥1,080
Rival McGillis Farid's custom Graze from Mobile Suit Gundam: IRON-BLOODED ORPHANS comes to HG! It's molded in his personal colors, and just like the HG Graze, its head opens up. The kit even includes a cable to display its wire claw mid-firing!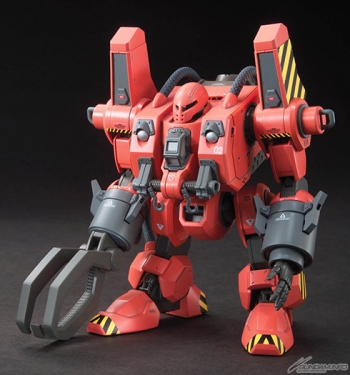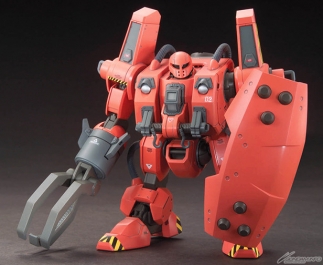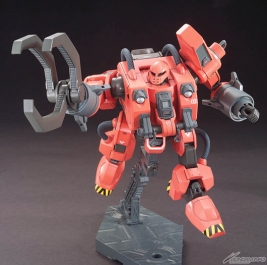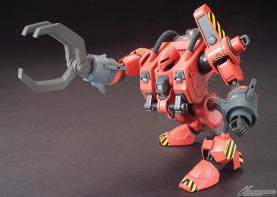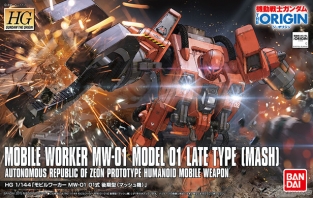 ■ HG 1/144 MOBILE WORKER MW-01 MODEL 01 LATE TYPE (MASH)( October 31st, 2015 / ¥1,944
The revised Mobile Worker piloted by test pilot and Black Tri-Star Mash in Mobile Suit Gundam The Origin II: Artesia's Sorrow is now available as a model! Detailed molding recreates its realistic, heavy machinery-style details. Leg and torso cables are made of elastomers for mobility and fine detail. Its arms are compatible with the HG Prototype Gouf (Tactical Demonstrator), too!
▼
Builders Parts series

A new parts set joins the official Gundam modification parts series!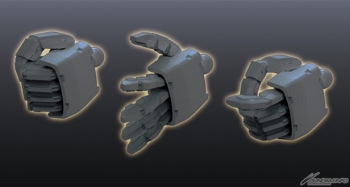 ■ BUILDERS PARTS HD 1/144 MS HAND 02 (ZEON) DARK GREY October 24th, 2015 / ¥540 New Builders Parts HD manipulators free your creativity! Molded in standard dark grey, they blend in great without painting. Choose from clenched, open-palmed, and gripping options, with alternate backs and curved and angled wrist joint parts!
* วันที่ที่เกี่ยวข้องกับสินค้าและการให้บริการที่ระบุไว้จะถูกกำหนดในประเทศญี่ปุ่น
กำหนดการจะแตกต่างกันไปในแต่ละเขต โปรดไปที่เว็บไซต์อย่างเป็นทางการของเราหรือร้านค้าที่ใกล้ที่สุดเพื่อดูรายละเอียด
อนุญาต Cookie เพื่อดูหัวข้อแนะนำสำหรับคุณ