The GM Custom Wagtail painting contest, held from March 25th to May 2nd, challenged readers' technique and design sense with the GM Custom Wagtail conversion parts from the May issue of Dengeki Hobby.
The Readers' Choice winters were announced in May. Gundam.info, Dengeki Hobby, and Bandai picks were announced in June. And now, we present the grand prize winner!
Come see the champion from among 177 entries!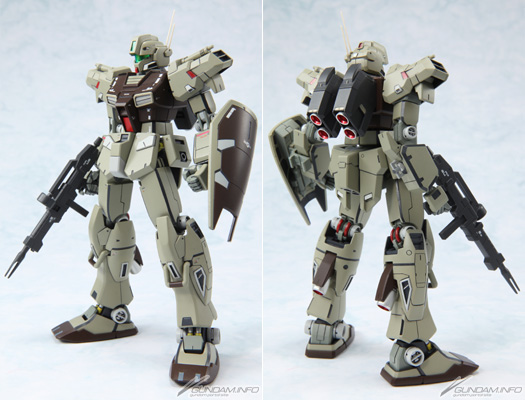 [GM Custom Wagtail painting contest grand champion]
Builder: GEKI
■ Builder's comment
I highlighted the edges, which normally don't have their own paint shade. The masking was tough, but it really brought forth the joy of painting. I introduce the New Generation Wagtail!
■ Judges' comments
Highlighting the edges is interesting on its own, but what really caught our eye was the amazing level of detail, attention to appearance, and quality painting.
The fabulous balance of the body's brown and warm grey with off white shows off the builder's wonderful coloring sense.
(Dengeki Hobby editor Toshiaki Anbiru)
| | |
| --- | --- |
| | The head-mounted antenna, built new, is attached almost straight-on. A little bit of ink wash helps it stand out. The neck projects a forceful image with its custom parts. |
| | |
| --- | --- |
| | Grey edge highlights on the arms and legs convey a bold look, and really show off the uniqueness of this entry. The light grey joints are also a nice accent. |
| | |
| --- | --- |
| | To allow for a crouching pose, the legs were moved to attach to the front of the hips. Scrap parts were filled in to remove the appearance of a gap, |
| | |
| --- | --- |
| | The joint "screws" were replaced with aftermarket parts to increase detail. |
The other GM Custom Wagtail painting contest entries can be seen at the link below. Look back on the contest in retrospect!
◆
GM Custom Wagtail painting contest entries
⇒
http://hobby.dengeki.com/event/aoz_wag/
The contest for the FW Gundam Converse Char Customize Zaku featured in Dengeki Hobby's August issue is still accepting votes! There are some great pieces, so be sure to pick your favorite!
อนุญาต Cookie เพื่อดูหัวข้อแนะนำสำหรับคุณ