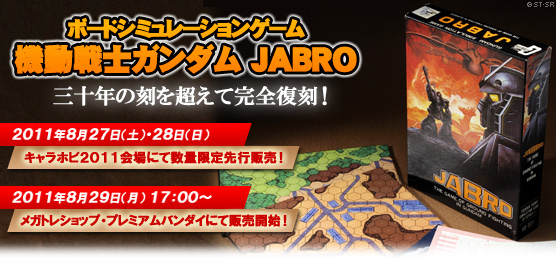 The 1981 board game Jabro

receives a 30th anniversary reprint by popular demand!

We bring back that old enthusiasm

with a three-part report!
To conclude our series of Jabro features, we interview designer Atsutoshi Okada!
What secrets will he reveal?
⇒
Part 1
、
Part 2
はこちら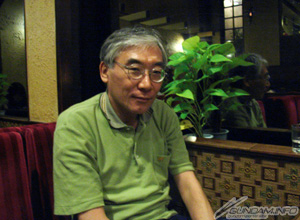 — First, give us an introduction.
 I was born in 1960, in Tokyo's Ota ward. My family has a stainless steel welding and polishing business, where I worked during my '90s break from game design.
— What made you want to be a game designer?
When I was in junior high, Hobby Japan started running miniature simulation game columns. Those were actual wargames back then, weren't they? It was a man named Ide who introduced wargames to Japan.
 When I was in high school I began to play Hobby Japan's versions of Avalon Hill's games, and in college I began developing my own games using 1/285 tank miniatures.
The kind of thing you'd call 'doujin games' nowadays.
— Tell us how you became interested in Gundam.
 When Gundam begain airing, I wasn't really what you'd call an 'otaku.' I has really into militaria, and appreciating SF and mecha went hand-in-hand with that. It began airing in my sophomore year, and I didn't really like it at first, but then it hooked me around when the Black Tri-Stars were introduced.
There were no Gundam games then, so I decided to make my own.
 The buzz it picked up from play at conventions led to reprints in Hobby Japan and Popeye, and I was contacted by Ad Technos to develop the Mobile Suit Gundam published by Bandai.
Then came a request from Tsukuda Hobby. That led to six years spent with them.
— What are your memories from Tsukuda Hobby?
 Tsukuda Hobby gave me a lot of freedom.
All I really had to do was name a show I'd like to make a game of, and the rights issues were hammered out for me.
— Tell us a secret from the development of Jabro.
 Another company was originally supposed to develop a Gundam game based on Squad Leader, but it suddenly became our project.
Writing a real rulebook for the first time was tough. The unit and map designed were handled by my colleague Suzuki at Tsukuda Hobby. In those days, we didn't have computers; the unit art was hand-inked.
— Tell us about your memories of other games.
 Compared to Jabro, I took a much freer hand with Fortress and my later games.
I was still at school at the time, so I had month-long blocks during which I could design and test games.
 I consider Crossfight, in which all actions were bound to movement points, to be a failure from a playability perspective. Also, my decision to ask that all units be depicted from an overhead view was poor judgment.
 I was pleased with Last Fight, where I first decided to make attack and defense rolls impact each other.
I continued to use similar rules through Gundam Senshi.
— Tell us about 'Operation'.
 That was Tsukuda Hobby's newsletter. We put it together to be able to sell things like units and dice mail-order a couple years after games released.
After it launched, we started adding things like optional rules and community sections. It ran quarterly for about five years.
 Then, as the simulation boom faded, it was canceled because it didn't turn a profit.
And of course, as finances got worse, we were never able to relaunch it.
— What are your memories from Dual Magazine?
 I'd always been involved putting together bonus games for Dual Magazine.
I'm still proud of my work on the Dougram and Votoms games.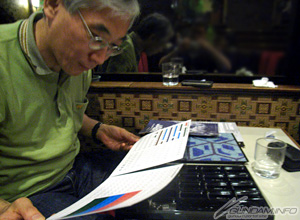 — Take a look at the repro version of Jabro.
 Huh? Did the dice get a little bigger? They weren't this easy to read before.
Was the unit tray redone? I suppose that, since Tsukuda Hobby withdrew from the board game business, it was necessary to have it done overseas.
I love how the texture of the map printing is the same. It seems like a sturdy, high-value set.
 I'd heard the Newtype effects were originally intended updated, but Megahouse insisted on a straight-up repro.
— Tell us about the one that never made it to market.
 It was planned to be a game for several players based on Zeta Gundam. With Tsukuda Hobby's withdrawal from the simulation market, it was scrapped, but at one point a PC version was planned.
However, at that point, FamilySoft held the rights, so it was shelved.
I believe it eventually formed the basis for Gihren no Yabou, though.
— What do you think of 'Gihren no Yabou'?
 My original plan was to use areas, but orders from the top were to use hexes.
It seems like Shin Gihren no Yabou is still using hexes.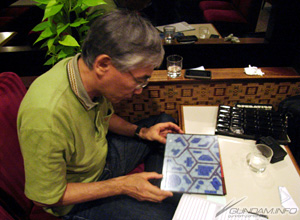 — What's next?
 If Jabro sells well, there's the chance for other reprints. I'd love to see that Zeta Gundam project eventually see the light of day.
What did you think of our three-part Jabro feature?
We hope we were able to help you all see the appeal of this game.
Mobile Suit Gundam Jabro is available from
Megatrea Shop
and
Premium Bandai
.
Don't miss your chance at the legendary simulation game's return after 30 years!
Photography / Inoue Studio
Cooperation: Hobby Japan

Board simulation game 'Mobile Suit Gundam JABRO'





[Set contents]

Three map boards, piece sheets (Federation, Zeon, pilot,) quick reference, rulebook, piece tray, white die, black die




Price: ¥7,630

Shipping: Arrives within 5 business days of order

On sale: 5:00 PM, August 29, 2011

Retailers: Megatrea Shop, Premium Bandai
อนุญาต Cookie เพื่อดูหัวข้อแนะนำสำหรับคุณ