16 ธันวาคม 2012
CBT users' Pre-OBT is live now! Plus, more info about Gundam Online's OBT!
See the units you'll be able to choose from in open beta!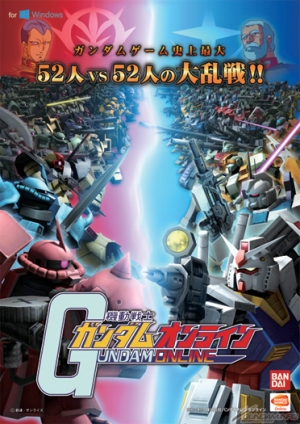 Mobile Suit Gundam Online, the PC game from Namco Bandai Online, will begin a "pre-open beta test" exclusively for CBT participants at 6:00 PM on December 17th.
This is your chance to start early on the OBT, which opens at 5:00 PM on the 19th for most users. If you played in CBT, get your head start now!
Of course, this means it's also the perfect time to detail some of the changes between closed and open beta. Everyone can play beginning on the 19th, so keep reading even if you missed CBT!
To register or download the client,
click here
.
■
Five starter units types plus three extras!
Rental units added too!
Starting from the OBT, players can choose from five unit types to start, and then earn plans for three others through challenges and other activities. Along with these eight, players can also borrow single-deployment "rental units".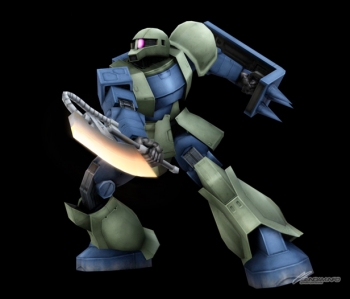 And the Gravity Zaku I has been replaced with the Zaku I!
<OBT starter units>
| Unit type | Federation | Zeon |
| --- | --- | --- |
| Assault Type | GM | Zaku I |
| Buster Type | RGM-79E GM | MS-06J Zaku II |
| Support Type | GM Trainer | Zaku Worker |
| Artillery Type | MP Guntank | Zaku Tank |
| Sniper Type | GM Sniper | Zaku I Sniper Type |

<Earnable plans>
| Unit type | Federation | Zeon |
| --- | --- | --- |
| Buster Type | Desert GM | Zaku Desert Type |
| Support Type | GM Ground Type | MS-06JC Zaku II |
| Artillery Type | GM Cannon | Zaku Cannon |
Four more developable units for each side are planned for launch, plus more rental units, and postlaunch 6-8 new units a month are planned.
Each will be available truly F2P by fulfilling requirements in-game.
Along with standard challenges, there will also be daily challenges, as well as "Perfect Challenges" which give extra rewards for completing sets of challenges within a limited time.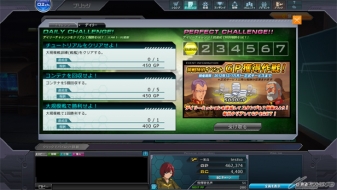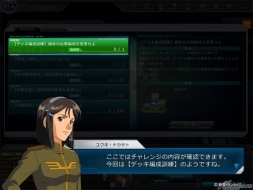 ▲ Learn more about challenges and their rewards in the tutorial.
■
New maps coming! OBT adds New Yark!
The Cliffs of Odessa map will be playable as soon as the pre-OBT begins. On 12/19, when full OBT begins, the New Yark map will also be added.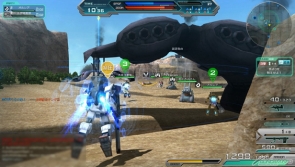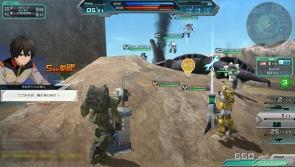 ▲ Cliffs of Odessa: "Steel Storm"
<Map schedule>

■ Pre-open beta test
6:00 PM 12/17–11:00 AM 12/19
"Cliffs of Odessa" (Steel Storm / Counterattack Beacon / Gunsmoke Hail)

■ Open beta test
Beginning 12/19 at 5:00 PM: "New Yark"
(Trojan Assault / Gunfire Straits / Clash in Ash)

* Beginning in pre-OBT, each map has different subtitles denoting different objective placements.
* An OBT map schedule post-New Yark will be announced in game and on the official site at a later date.
■
Pilot avatars refreshed!
More and more new variations to choose from!
Starting with OBT, all pilot avatar options have been updated, with players free to choose their faction, face, hairstyle, hair color, uniform, skin color, and voice.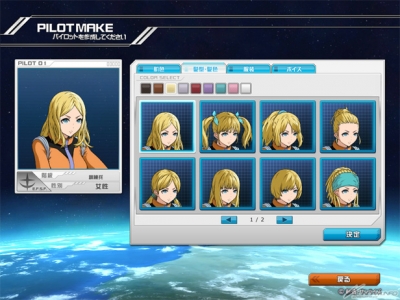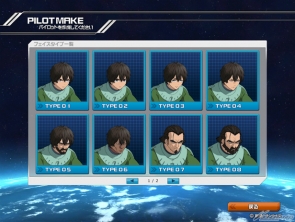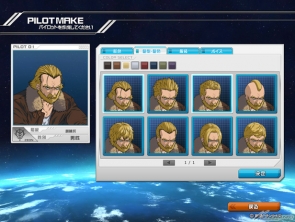 ▲ Choose your own combination of traits.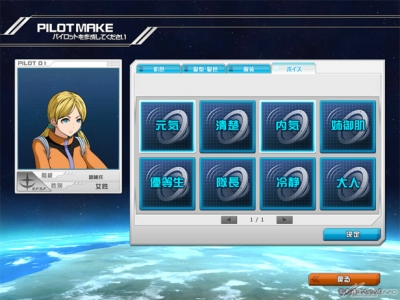 ▲ Eight different voices are available.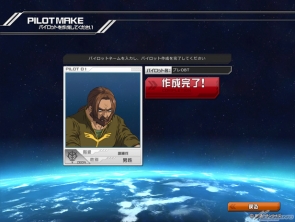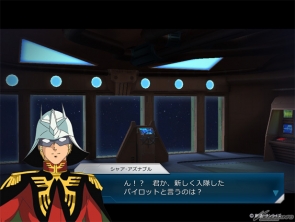 ▲ Once you settle on an avatar, you'll be greeted by a character from the show!
■
Count down to the OBT live!
To celebrate the OBT, we're inviting guests and press to a countdown event at 3:00 PM on December 19th!
The event will include a game introduction, a battle viewable from three different cameras, and a countdown to OBT.
Don't miss the live stream!
<Countdown Event details>
■
Date
3:00–5:00 PM, December 19th
■
Program
Part 1 (3:00–3:45): Game intro, guest talk show
Part 2 (4:00–5:00): Guest and press live demonstration, countdown
■
Guests

・ Toru Furuya (voice of Amuro Ray)
・ Akina Minami (talent)
・ Numacchi (comedian)
■
Live streaming page
http://msgo.bandainamco-ol.jp/
* Available archived until 12/23
Mobile Suit Gundam Online
Genre: Massively multiplayer action
Supported OS: Windows® XP / Vista / 7 / 8
(*XP 32-bit only)
System requirements: Launch requirements TBD
Price: Free (cash shop for items)
Launch date: TBD
Developer/Operator: Namco Bandai Online
อนุญาต Cookie เพื่อดูหัวข้อแนะนำสำหรับคุณ