The 54th Shizuoka Hobby Show, one of the world's biggest hobby events,
opened May 14th at Shizuoka Twin Messe.
Direct from the show, we've got a sneak peek at what's on display at the Bandai booth!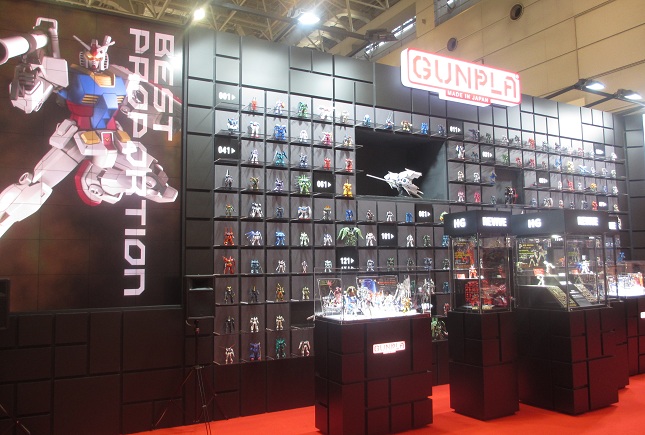 ■1/144 HG -REVIVE-
Gunpla's 35th Anniversary is celebrated with a new standard in 1/144-scale kits: the HG -REVIVE- series!
 The RX-78-2 Gundam follows the Guncannon into this new format.
The HG corner of the booth houses a gigantic display stretching nearly 35 feet and towering nearly 15 feet high!
See the -REVIVE- series, one of several Gunpla 35th projects,
alongside a full array of the nearly 200 HG releases.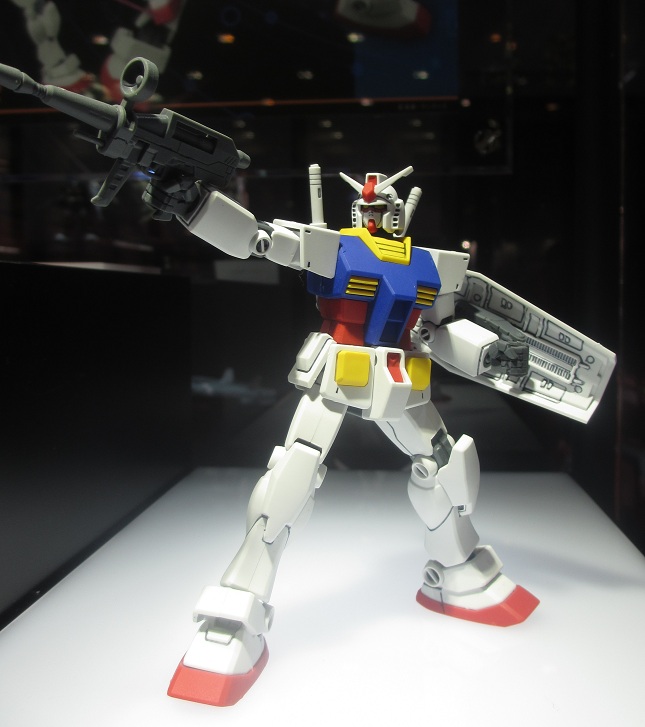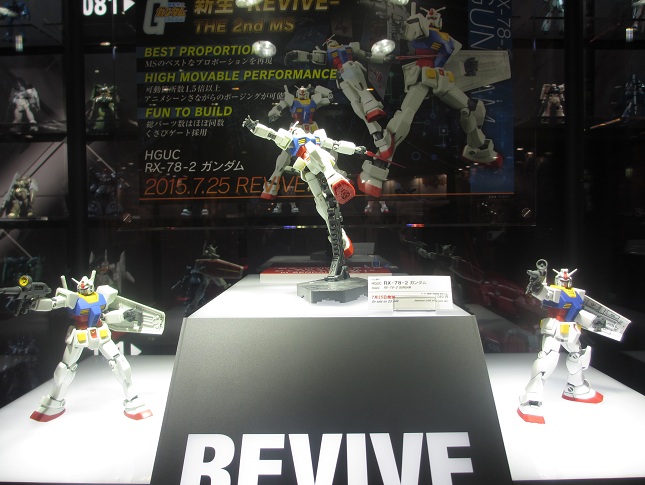 ▲HGUC RX-78-2 GUNDAM (On sale July 25th, 2015)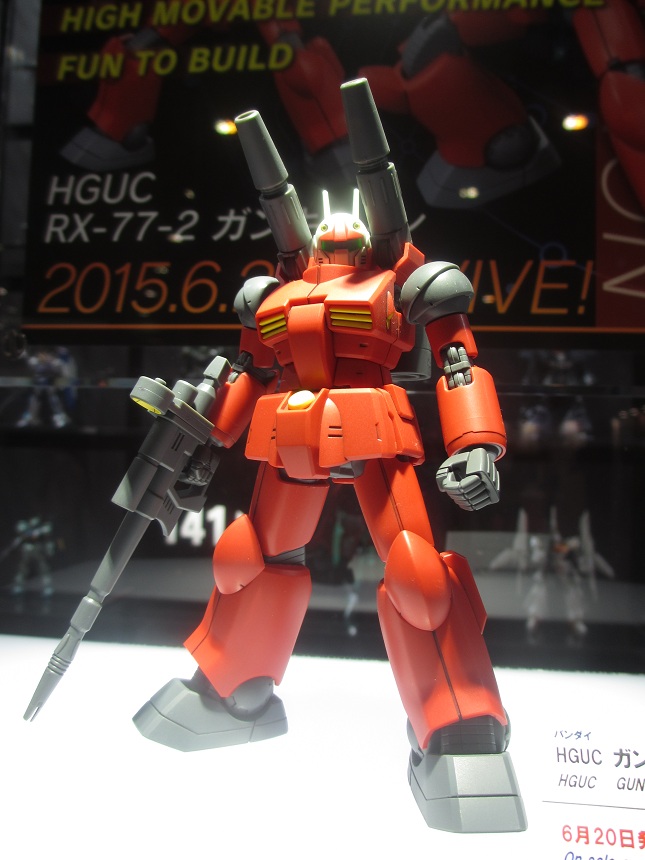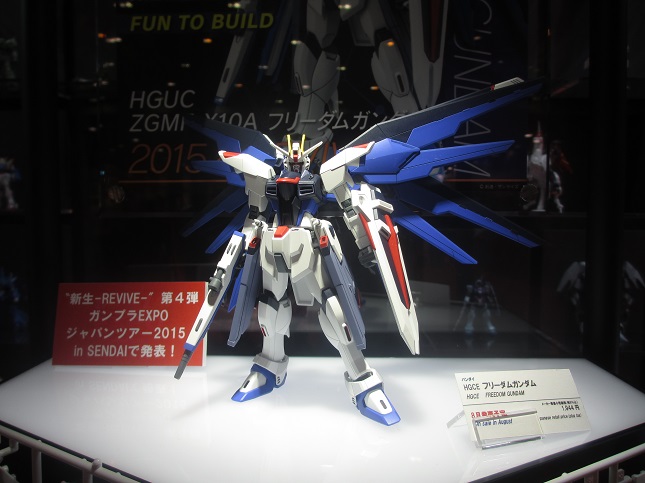 ▲HGUC GUNCANNON (On sale June 20th, 2015)
▲HGCE FREEDOM GUNDAM (On sale August 2015)


■SD GUNDAM EX-STANDARD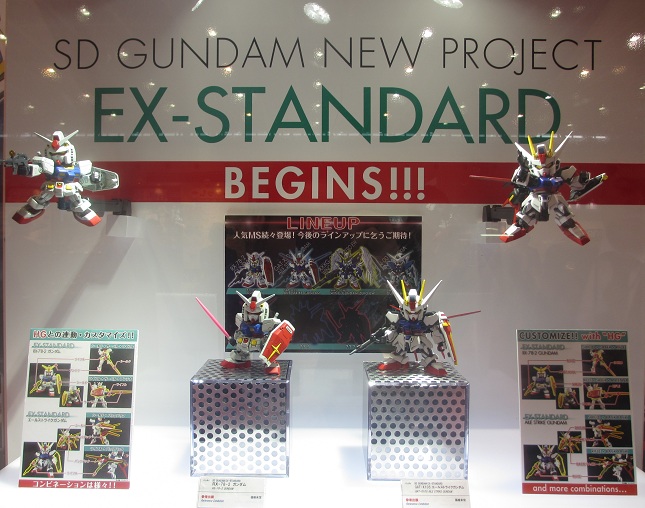 A new SD Gundam project!
SD Gundam EX-STANDARD is revealed!
The SD series' iconic proportions are preserved yet polished with an update that scales down heads and torsos while extending arms and legs.
Joints with boosted ranges of motion allow EX-STANDARD kits to confidently strike impressive poses.
Plus, SDBG's parts swaps and cross-compatibility continue.
Combine weapons, shields, and backpacks into custom gear for your HG kits!
No word is available yet on when the new series will launch, but stay tuned for more info!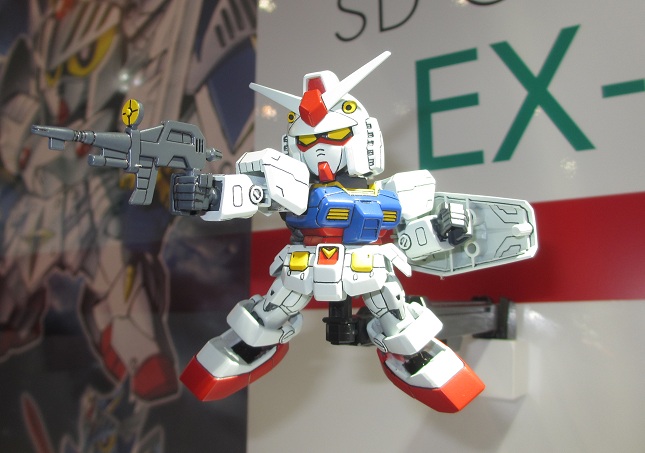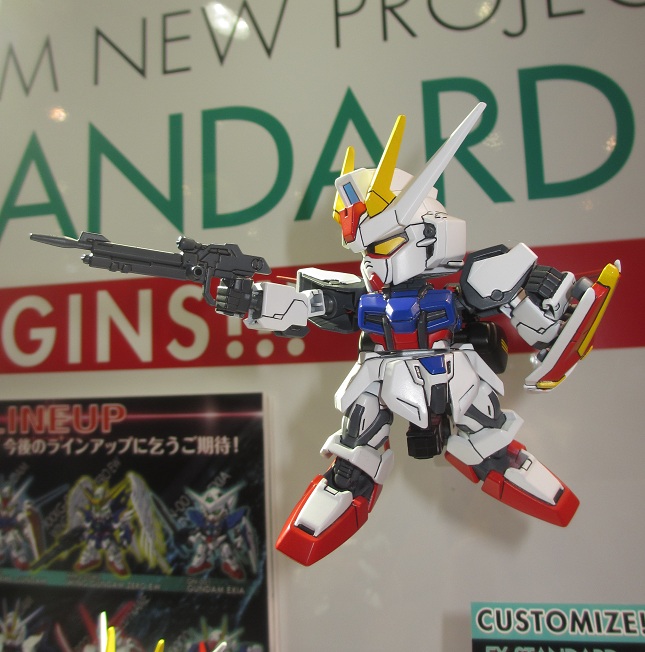 ▲SD GUNDAM EX-STANDARD RX-78-2 GUNDAM
▲SD GUNDAM EX-STANDARD GAT-X105 AILE STRIKE GUNDAM
■REBORN-ONE HUNDRED series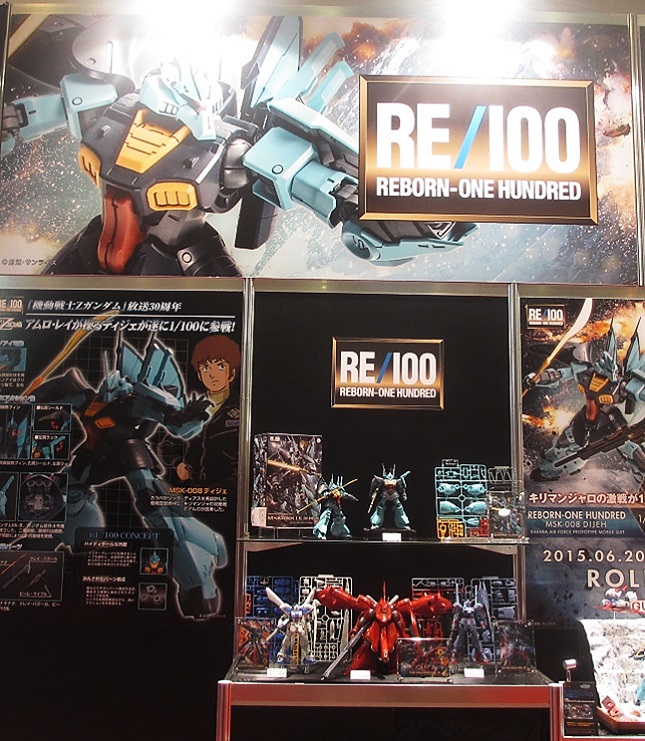 The stunningly-molded and highly detailed Reborn-One Hundred series continues
with a long-awaited model of the Dijeh to celebrate the 30th anniversary of Mobile Suit Zeta Gundam.
Enjoy the modern proportions and high mobility offered by RE/100,
and don't miss its impressive arsenal!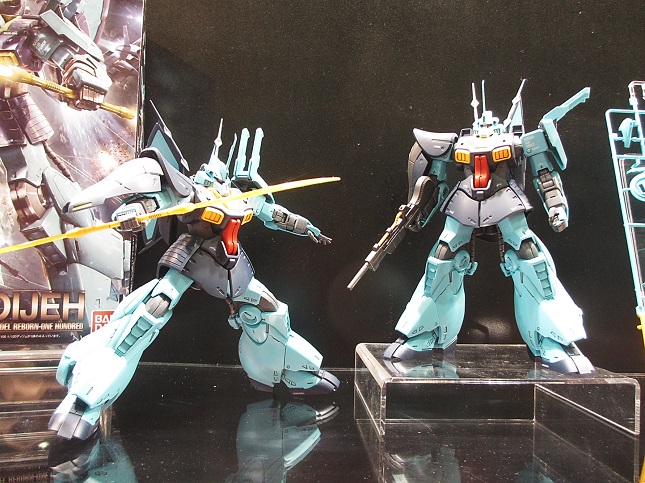 ▲RE/100 MSK-008 DIJEH (On sale June 2015)
■ MG Series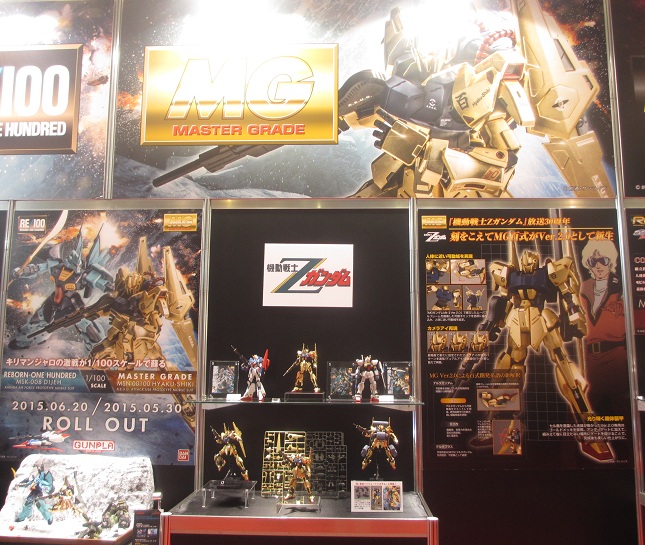 Meanwhile, the MG series marks Zeta's 30th with the Hyaku-shiki Ver.2.0.
Its gold plating features a hint of red derived from cel paint coloring.
The movable frame concept refined by the MG series returns,
with a range of motion comparable to that of the human body.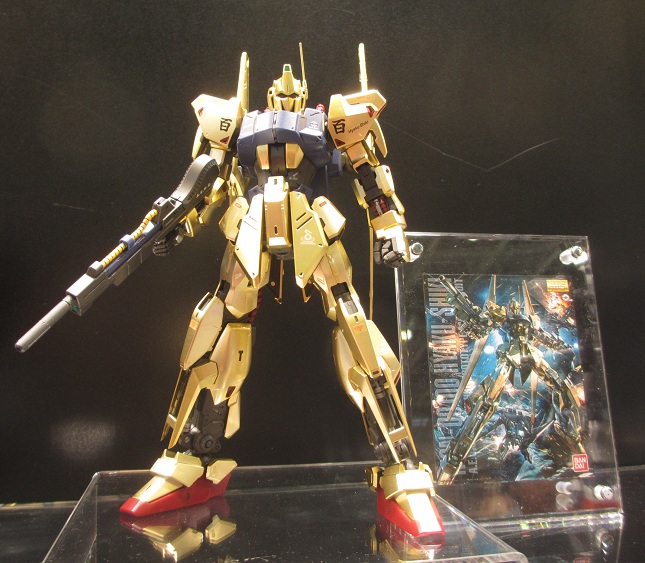 ▲MG HYAKU-SHIKI Ver.2.0 (On sale May 30th, 2015)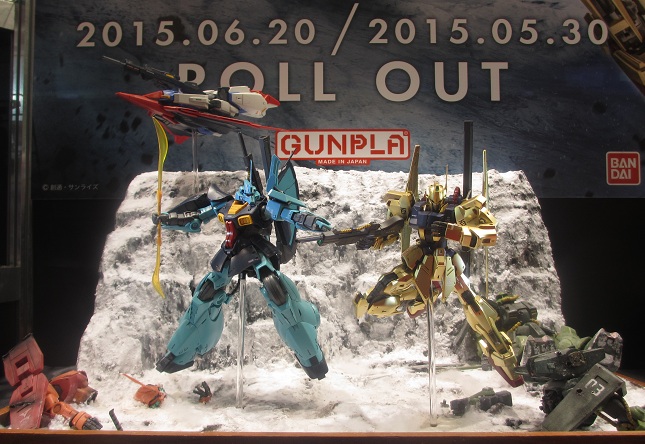 ▲The MG Hyaku-shiki Ver.2.0 and RE/100 Dijeh appear in a diorama reenacting the battle at Kilimanjaro!
■RG series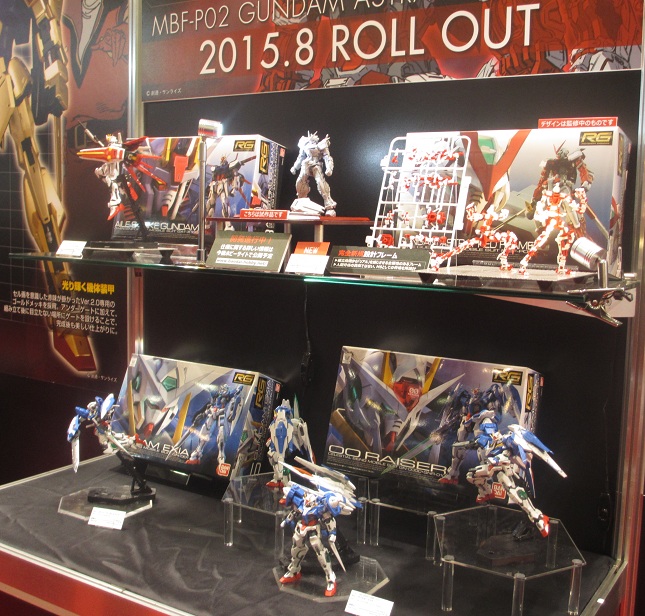 The RG booth focuses on the just-released 00 Raiser and the upcoming Gundam Astray Red Frame. This new kit carries forward the RG concept of basing designs on real-world engineering,
drawing out the "Astray-ness" of the Red Frame with almost-human mobility
and detailing based on musculature.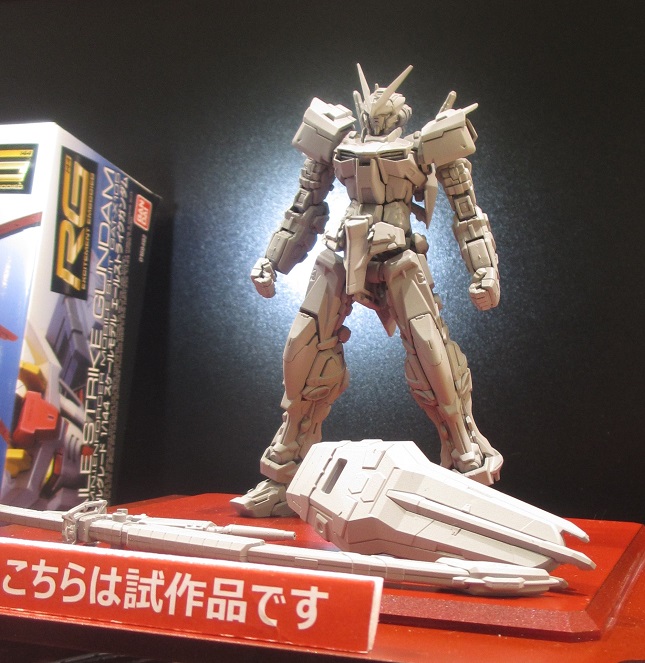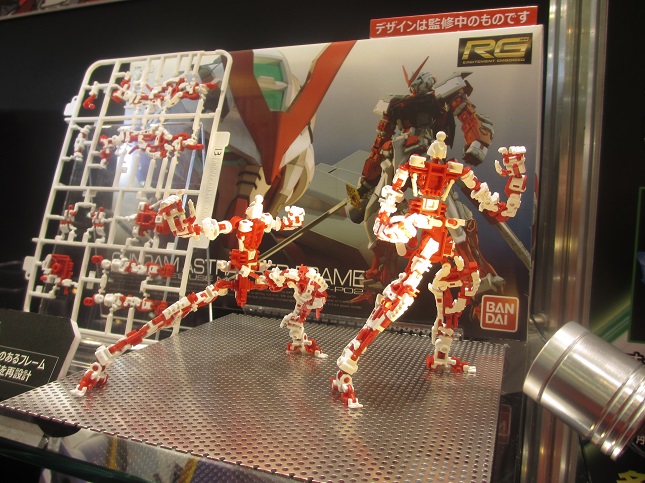 ▲RG MBF-P02 GUNDAM ASTRAY RED FRAME (On sale August 2015)
อนุญาต Cookie เพื่อดูหัวข้อแนะนำสำหรับคุณ